Are you or is someone you struggling with addiction?
Inspire Recovery can help! Call 561-899-6088 for a free & confidential consultation.
A Transgender Recovery Success Story
Twenty-five-year-old Aden points to the vulture that adorns his upper left arm. The tattoo represents the battle for his sobriety, inspired by lyrics from "Black Vultures," his favorite song by metal band Halestorm. It helped him through the darkest parts of his journey and led to his transgender recovery success story:
I'm on the edge of the war
I'm holding on and hanging by a thread
I am the eye of the storm
And you haven't seen the last of me just yet.
Looking back on his life, Aden acknowledges the storm he would battle formed early. "My dad's an alcoholic and my mom has depression – not a great combination. I grew up about 45 minutes from St. Louis on the Illinois side, in a small town of 10,000 people with cornfields and a gas station–pretty much the middle of nowhere."
Struggling To Find An Authentic Gender
Aden came out as bisexual in eighth grade, and as a lesbian in high school. He started living his authentic gender around age 19. Throughout all of this, he says his mom didn't blink an eye. "When I initially told her, she was like, 'And…?' She just wanted me to be OK." But like all relationships, Aden says they've had their ups and downs.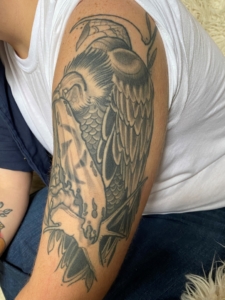 "When I was 18, mom kicked me out of the house because I was drinking and partying. I moved in with a friend, and later a girlfriend. She and her friends would drink a lot. I joined them, but while they could drink and still function, I couldn't."
Eventually, Aden left that relationship and got a place of his own. While working at an Amazon warehouse, he made enough money to afford his own one-bedroom apartment. "My drinking spiraled out of control," he says. "I had to drink, or I would immediately go into a painful withdrawal. Finally, I called my mom and said that I needed to go somewhere and get help. She bought me a plane ticket."
Hitting Bottom, Seeking Treatment
"It was important for me to go to a place that would accept me fully." Aden found an organization that offered detox services. But they didn't really know what to do with him. "They were affirming only up to a point. They put me in a single room meant for someone who was handicapped." In their minds, Aden was female.
"I'd been taking testosterone for three years, 75 milligrams, once-a-week. When I tried to order my prescription, the doctor kept telling me my dose didn't exist. He insisted I take 200 milligrams—a dangerous dose because it can cause blood clots, hair loss and other serious side effects. They were giving me such a high dose that I started to get sick. But they wouldn't listen to me."
Eventually, the detox center knew of Inspire Recovery and suggested it may be a better fit for Aden. His first contact was with Inspire Recovery Outreach Director Joyce Matera. "Joyce put me at ease immediately. I was relieved when she told me that Inspire roomed individuals based on gender identity."
On The Road To Sobriety With Inspire, A Transgender Recovery Success Story
As he started his journey with Inspire, Aden noticed a difference immediately. He knew he'd made the right choice.
"When the admissions director asked me what my name was, almost by reflex I said, 'You want my legal name or preferred name?' He said, 'No, I want your real name. What is your real name?' I never experienced this before—it was mind blowing. I felt heard. It was so refreshing!"
As Aden settled into living with Inspire, he felt a genuine connection with his housemates. His first roommate was an older trans man, who had already had top surgery. "He exuded confidence and shared a lot with me about his journey. He set an authentic example I could aspire to." Aden also notes that he learned a lot from his connections with other clients and housemates who identified as queer or non-binary. "It helped me recognize my own black and white thinking around gender."
Finding Gender-Affirming Rehab, Support & Community
Aden got sober through a combination of Inspire's gender-affirming, trauma-informed interventions coupled with the 12 Steps of Alcoholics Anonymous. "I've been with my sponsor for almost two years." Working with his therapist, Inspire Recovery Program Director Jaki Neering, was a new experience.
"I had never worked with a therapist who understood gender identity. It was also the first time I was in therapy voluntarily. Before, I had a hidden agenda—I used it to manipulate to get something. This time it was purely about getting well." Jaki was also instrumental in helping Aden mentally prepare for his top surgery, telling him about the doctor and making sure he had the necessary paperwork in order.
Aden felt the strength and support of the Inspire family surround him as he prepared for his surgery. He remembers Inspire's Administrative Assistant George Lydon driving him to his appointment at 5:00 a.m. "I was really scared. George stayed with me as long as he could. That meant a lot to me." Afterward, Aden says the whole Inspire team, including other clients, rallied, taking him to appointments and helping him make meals. He proudly picked up his 90-day AA sobriety chip only days after the surgery.
"Inspire taught me more about the LGBTQ community. For example, I met people who are non-binary. You would've thought being trans I would've understood it all, but I didn't. I realized I pushed a lot of my own views on people. Inspire opened my eyes to stop and listen to people and appreciate different experiences."
After a year in Inspire's gender-affirming care, Aden lives independently in South Florida. He works full time as a veterinarian technician at Peggy Adam's Animal Rescue in West Palm Beach. "The care I received at Inspire taught me I'm a caregiver at heart. I'll never forget that."
Are you or is someone you know addicted to drugs?
Call Inspire Recovery today at 561-899-6088 for a free & confidential consultation.
Inspire Recovery Supports these LGBTQ, Human Rights, & AIDS Organizations