Are you or is someone you know struggling with alcohol addiction?
Inspire Recovery can help! Call 561-899-6088 for a free & confidential consultation.
How do LGBT Alcoholics Work on Recovery in Rural Areas?
How Do LGBTQ Alcoholics Work on Recovery in Rural Areas?
Recovering from alcoholism is hard enough. Recovering from a dependence on alcohol as an LGBT person in a rural area comes with another set of challenges.
The first hurdle to leap over is to find a rural 12 step meeting near you. Whether you're lesbian, gay, bisexual, transgender, gender fluid, non-binary, queer, questioning, intersex, or an asexual and an alcoholic—being embraced by your 12 step group can take time. I encourage everyone to "keep coming back" (as we say in recovery) to the meetings that you find. In time, it is possible to share authentically without the fear of being judged.
If you live in the West Palm Beach, Florida area, here's a link to local LGBTQ 12 step meetings. Where ever you live in the country, you can call Inspire Recovery to find out about LGBTQIA addiction rehab.
Find a 12 Step Meeting
So, of course, in a rural area, there are fewer places to find meetings than in a big city. In rural communities, Alcoholics Anonymous (AA), Narcotics Anonymous (NA), and other 12 step meetings are often held in small, typically conservative churches.
These places can scare off almost any gay, lesbian, trans, queer, or intersex person. If possible, find an AA or NA meeting near you that is located at a 12 step meeting house. These are independent of churches and also referred to as a 12 step clubhouse, AA clubhouse or NA clubhouse.
If there isn't a 12 step meeting house near you, then my next bit of advice is to give the church meetings a chance no matter how intimidating it may seem. In alcohol recovery or any form of addiction, we have to learn how to step outside of our comfort zone.
If you are LGBTQ with limited options, going to a 12 step meeting in a church could start you on the road from recovering from a powerful drug or alcohol addiction that is ruining your life. Ask yourself, is my alcohol consumption, pushing my partner away or making me lose my job? Has my life become unmanageable?
Put Your Recovery First
As a transgender, intersex woman who lives in a rural conservative area, it was hard at first to think about attending meetings.
However, I urge you to put your recovery first.
I know how hard it is to consider how some people who are religious and politically conservative are homophobic or transphobic.
They might be and they might not be. I suggest to shine a little light on optimism and see what happens at your first meeting.
People will potentially put their judgments aside during 12 step meetings, same as our families on the holidays. When more LGBT people show up in places devoid of our presence—more opportunities will arise to create a space where all people are welcome.
When more LGBT people show up in places devoid of our presence—more opportunities will arise to create a space where all people are welcome. I am not suggesting you put yourself in an unsafe situation. I am encouraging you to go to a few meetings and test the waters.
Being an LGBT Alcoholic in a Rural Area
This is going to sound invalidating; that is not my intention. However, it will go a long way for your recovery if you try to, momentarily, set aside personal trauma you may have from church settings.
I know, I have experienced it myself. Those horrible situations that come when you feel less than others. For all the times you've experienced blatant or subtle prejudice, it is not ok. Interestingly, the people "in the rooms" of recovery are attended by people also wanting society to not judge them for who they are.
As far as the opportunity for safer spaces for LGBT people in rural America goes, let 12 step meetings be one of them. Everyone deserves the right to get the help and support they need when they're willing to work a program of recovery.
In time, I hope you'll be comforted by the opportunity to connect with people who may be different from yourself, yet, as alcoholics and addicts, share a somewhat similar path.
Recovery is a Spiritual Program, Not a Religious One
The truth is, you will need to find people to work on recovery from alcoholism with. Addiction recovery is rarely managed alone. If you live in a small rural town and you don't want to move, you may be left with no other choice.
Even though the AA Big Book has a lot of religious connotations, the 12 step program as a whole is a spiritual journey. It's not meant to convert anyone to Christianity or ask them to accept a higher power that is not of their understanding. If you search online, you will find that there are a dozen or more versions of the 12 steps. One for every spiritual and non-spiritual person needing recovery from alcoholism and addiction.
Here's a link at some of the alternative 12 Steps available.
People of all faiths, philosophies, and the Agnostic or Atheist learn how to live of recovery at 12 step meetings around the world.
As LGBTQIA+ individuals, being open-minded about straight, cis, and religious people matters just as much as us wanting others to be open-minded about the spectrum of people with varying gender identities and sexual orientations.
Online and Over-the-Phone 12 Step Meetings
This brings us into our third option for 12 step meetings. Online and over-the-phone recovery meetings take place every day of the week. I recommend an in-person AA or NA meeting whenever possible. However, if you don't have another alternative or you are feeling discriminated against because of your gender identity or sexual orientation—these alternatives will be necessary for your recovery.
There are a variety of 12 step recovery meetings to attend online. From group video chat meetings to meetings held of a message board, to meetings held on social media such as Facebook and Twitter.
You also have access to the dozen or so 12 step groups that exist. Many people work more than one 12 step program to help them take their life back.
My personal favorite of all of the choices is the online group video chat meetings because they give you as close of an experience as you can get to go to a real AA or NA meeting. In a video chat meeting, a lot of the same personal interactions can be experienced from the comfort of your own home.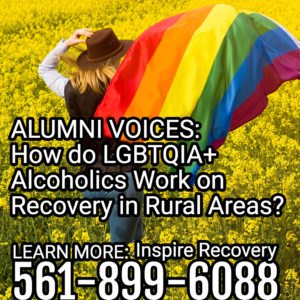 Create Fellowship Where You Can
I don't believe these are any substitute for a real in-person AA meeting, but if you don't really have any other options, then this may very well be an excellent option for you. Besides, you never know what life-long friends you may make online inside the online rooms.
These days, with all the rapid availability of technology, we're breaking down distances through resources like message boards and video chats. It seems like it is impersonal. Interestingly enough, any meeting you regularly attend will likely lead to someone who can support you in your recovery.
Other Forms of Support for LGBTQ Alcoholics and Addicts in Rural Areas
Support groups, in general, are vital when your well-being and mental health are being compromised. LGBTQ individuals who struggle with addiction need and deserve support.
When you're an LGBTQ alcoholic in a rural area trying to work on a program of recovery, it's important to know where you can access mental health services. Many people in recovery need support with their mental and physical health, just as much as addiction support.
In the addiction treatment world, they refer to it as being having a co-occurring or dual diagnosis disorder.
The LGBTQ+ community has a higher risk of mental health challenges like depression and anxiety. Some people struggle with addiction, mental health, an eating disorder, and body dysphoria. That's where I started my program of recovery from and I'm not ashamed. I'm proud of my progress and I want the same for you.
Check out the National Alliance on Mental Health, or NAMI, a national resource for more support groups in your area. If there's an LGBT center near you, they will likely have resources of some sort. You have to start somewhere. Pick up the phone if it's the only option you have.
Make a Move for Your Recovery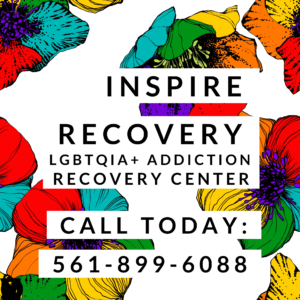 This brings us to our fourth option, which is just to pack up your bags and move to a city or a bigger small town. The disclaimer being—only move if you have a strong support person/people in the new location. Or, if you can, get yourself to a rehab where you can get the help that you need.
I understand that this is not always something that everyone can do. It was what I ended up doing, and it helped me out a lot.
When you call Inspire Recovery in West Palm Beach, Florida, the staff there will do what they can to help you get into a detox center. Hopefully, you'll then start rehab at a true LGBT addiction recovery center.
Alternatively, try to check into the closest detox. If you can, request to be sent to a rehabilitation center in a city of your choosing. If you've already called Inspire Recovery you can mention them to the detox center.
My Recovery from Alcoholism as a Trans, Intersex Woman
A few years ago, this is exactly what I did. It was both the best decision I ever made and also the hardest. If you decide to go to rehab away from home, I suggest the treatment center that I went to. Inspire Recovery is specifically for the LGBTQIA+ community in recovery from alcoholism and addiction.
The staff at Inspire Recovery really helped me grow and gave me some of the best life experiences a girl could ask for. I wholeheartedly believe they would help you, or at least point you in the direction of a place that can help you if you have no health insurance and your hard-on cash. Give them a call: 561-899-6088.
While attending the Inspire Recovery LGBT-specific addiction rehab program, I was able to be authentic and work on my recovery with other transgender, gay, non-binary, lesbian, genderqueer folks. Being away from my family was good for a while but eventually, after a couple of relapses, I decided it was time to go and work on my recovery.
LGBT Community and Getting Help for Addiction
There is nothing to sugar-coat about addiction or recovery. It's all really hard until you really get into the groove and find your place "in the rooms." This is a classic recovery term that refers to the rooms of recovery where 12 step meetings are held. I genuinely hope you find them and a fellowship of people who are accepting of you as an LGBTQ person in addiction recovery.
Did you know that those who are lesbian, gay, bisexual, trans, intersex, non-binary, gender fluid, genderqueer, queer, bisexual, pansexual, demisexual and asexual, have a 20-30 higher risk of addiction? Inspire Recovery is an accredited co-occurring addiction treatment center dedicated to the LGBTQ community. Learn more about our recovery program. Call us today to discuss your options for drug rehab.
I hope that this article has been helpful to you and you meet some of us as you trudge the Road of Happy Destiny.
Are you or is someone you know addicted to drugs?
Call Inspire Recovery today at 561-899-6088 for a free & confidential consultation.
Inspire Recovery Supports these LGBTQ, Human Rights, & AIDS Organizations