Are you or is someone you struggling with addiction?
Inspire Recovery can help! Call 561-899-6088 for a free & confidential consultation.
5 creative ways to support your recovery
Whether you have taken the steps to recovery and are receiving treatment in an LGBTQIA+ affirming center or are in the beginning stages of your recovery, finding creative ways to support your recovery can be empowering in your unique journey.
The use of art and music therapies in a drug and alcohol recovery setting has been found to be very effective. Art therapies reduce opposition to treatment, provide people in recovery an outlet for communication and lessen shame. Music therapies also have similar results. Moreover, both forms have shown shifts in positive emotional changes, relaxation, and increasing motivation.
It is no secret that the more tailored to the individual a recovery technique is, the more effective it can be. However, creativity doesn't only have to be left for the moments you are in treatment. Being  creative can be done anytime and anywhere. Creative activities help boost your self-esteem, provide ways to socialize in a safe space and keep boredom and cravings at bay. Below are 5 creative ways to support your recovery. 
5 creative outlets for LGBTQIA+ people in recovery
#1: Photography
Photography is a form of visual art that can be used to explore creativity. The best part is that it is readily available to anyone with a phone or digital camera. Photography can have many benefits for LGBTQIA+ people in recovery. For example, a study about taking and posting a daily photograph showed many benefits. Participants found an improvement in their self-care, comfort in community and remembrance of positive memories.
"You know, the photos I've taken will have a positive memory attached to it even if it's something as simple as I had a really lovely half an hour for lunch sitting outside and was feeling really relaxed."
Photography calls attention to details and sheds light on small positive things in your day that may often go overlooked. For example, you can use it to keep a visual timeline of what recovery looks like to you on a daily basis. Also, photography can serve as a way to communicate feelings that you cannot put words to and connect to others whose values and goals align with yours.
Are you more interested in self-portraiture or expressing yourself as the subject of a photograph? Then look to be involved in projects like this one which can bring out your authentic self in front of the lens!

#2: Poetry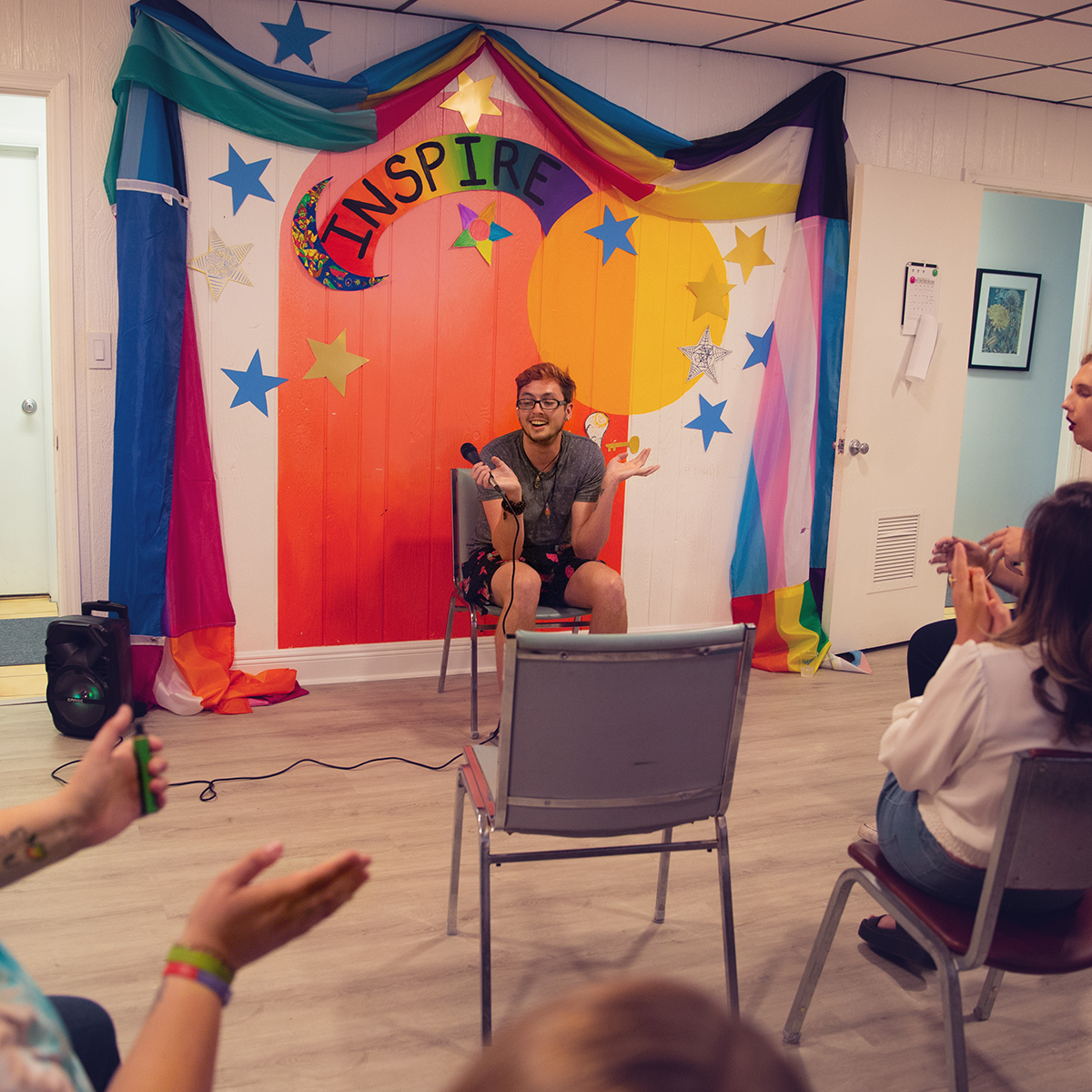 Poetry reading and writing is another way to support your recovery journey. The use of the written word in healing dates back thousands of years. Moreover poetry is found in many forms including song lyrics, stories, and spoken word poetry. Moreover, research shows that poetry activates parts of the brain responsible for introspection- the examination of one's own thoughts and feelings.
What better way to not only get to know yourself better, but also communicate your authenticity to others in and out of the queer community during your recovery journey?
Want some inspiration? Check out HRC's list of recommended LGBTQ Poets.


#3: Journaling
Writing down thoughts, ideas or daily occurrences can be a creative outlet during recovery.
Some journaling prompts to help get you started:
 

Writing a letter to your future self.

 

Jotting down short- or long-term goals.

 

Crafting a goodbye letter to people or activities that you do not want to have in your recovery process.
Journaling allows you to put thoughts and worries on paper and out of your mind. You can gain a better perspective of what your day-to-day life looks like through journaling. Since journaling is meant just for you, it is a great safe space to be open and honest with yourself. By doing so, you can navigate your recovery journey more authentically. So start today and add journaling to creative ways to support your recovery. Learn more about our Journal Writing Group. 
#4: Dance
Do you feel you are "not good with words"? Then dance it out!
Dance is a great way to come back to your body and use movement to express yourself. It can be used while in addiction rehabilitation as a form of therapy. Likewise you can even change your mood with the use of movement as a way to be mindful and present in the body.
Choose your favorite music to dance to! The best news is that there is no need to follow a specific dance routine. In fact, the more you move as your body dictates, the more therapeutic the dance becomes. If you want more guidance, you can join an in-person dance class or follow along a YouTube dance tutorial. No matter which way you go about it, you can't get it wrong.

#5: Drawing and painting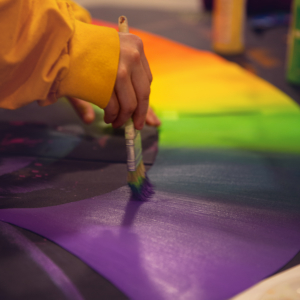 Drawing and painting are effective therapeutic tools that can be used by anyone at any point in their recovery journey. Visual arts in general help people access feelings and begin to understand them by encouraging self-expression.
You can choose from a large variety of colors and mediums and find a visual art form that aligns with you.  Above all, the best part is that all you need is paper and a writing utensil.

Including creativity in your recovery program
You do not have to wait to be a part of a LGBTQIA+ affirming rehab center's creative program to start developing your chosen creative outlet. Start by searching the local library for books and classes, search YouTube tutorials and even take a free virtual or community class.
Here at Inspire Recovery, by encouraging self-expression through the arts we seek to provide a voice to explore introspection and learn about personal growth. Moreover in treating our clients as whole and complete individuals, we pay attention to the multi-faceted dynamic nature of individual personalities that make up our LGBTQIA+ community. 
To learn more about the many ways that a creative center in West Palm Beach, Florida can support your recovery, give us a call at 561-899-6088 and start your healing journey today.
Are you or is someone you know addicted to drugs?
Call Inspire Recovery today at 561-899-6088 for a free & confidential consultation.