Struggling with addiction?
Inspire Recovery can help! Call 561-899-6088 for a free & confidential consultation.
Inspire Spotlight: Paul Zilber
Introducing Our Admissions Director
We're excited to share our first Inspire Recovery Staff interview! Meet Paul Zilber, the newest member of our admissions team. We sat down to ask Paul some questions and we are so impressed with his heart-full responses. In this interview, we learn how Paul's own experiences of bullying, being gay and advocating for the LGBT community shape his dedication to making a positive impact on the lives of our clients.
Click here to read Paul's bio and see the other incredible individuals that help our Joint Commission-accredited facility run smoothly and successfully.
Inspire Recovery: Paul, how has the work that you have done in the past for the LGBTQ+ community aided you in your role as the Admissions Director at Inspire?
Paul Zilber: In my adolescent and young adult years, I was always driven to serve the underprivileged, which included LGBTQ people. I worked endlessly at different endeavors that impacted LGBTQ people, especially youth. This included inclusivity training in high schools, universities and hospitals. I always wanted to empower youth, and help them find their voice to rise against systematic oppression, bullying, and hate which stemmed from being gay & bullied myself.
Being on the board of Garden State Equality helped me reach teens who needed help. Being a bullied teen myself, and experiencing the torment that came along with it, but more importantly, surviving it, I knew I had what it took to possibly teach people it's easier to love than to hate. I was able to show LGBTQ youth that their uniquenesses are their best assets.
This plays right into what I do at Inspire, as the Admissions Director. My mission in this treatment center is to empower people to take back charge of their lives and find their worth. I truly believe in the power of listening and relating. Through my experiences and breakthroughs, I'm able to ease the worry of those struggling with addiction and their loved ones and assist them in recreating their lives.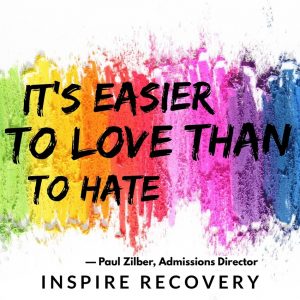 What Makes Inspire Different?
Inspire: Why is it important to you that LGBTQ+ individuals looking for a treatment center come to Inspire? What are aspects of the program that would make a difference in a client's life?
Paul: At Inspire Recovery, you will find what no other treatment center does. With our individualized approach, we will go farther and deeper to best cater to the specific and special needs of our clients.
At Inspire, we know the demographic we serve. We are aware of the trials and tribulations that affect the LGBT community because we have lived them. With the trauma therapy we offer, we can tackle the core issues that other clinicians may not understand.
Our caring staff is here night or day to de-escalate any situation that may arise during this tumultuous time during our client's lives.
Inspire: What's your favorite part about working at Inspire Recovery?
Paul: My favorite part of working for Inspire Recovery is a simple one. It's that I get to be myself. In doing that, it gives permission for our clients to be themselves. With an affirming environment, comes success. I'm able to come into work excited to see the progress that is being made and get to be there for someone who may need it.
LGBT Bullying Can Lead to Substance Abuse
For more information about the connection between LGBT bullying and substance abuse, please click here to read an article in Social Work Today magazine. This article also includes research expressing why and how the LGBT community faces a 20-30 percent higher risk of addiction.
"Raised in an unsupportive culture, surrounded by homophobia and bullying, and lacking familial support, the stressors of individuals who identify as LGBT, especially youths, add up, and these youths often escape into substances just like their peers do."
At Inspire Recovery, these facts and statistics are our driving force. We know first hand that addiction rates are higher within the LGBTQIA+ community. This is especially the case among transgender individuals, who experience an incredible amount of bullying and discrimination.
And it's not only substance abuse that is higher, rates of depression and suicide are also greater within the youth and adult population of the LGBTQ community.
If you or someone you love is struggling with a substance abuse problem who is lesbian, gay, bisexual, transgender, queer, intersex, asexual, gender non-conforming, genderqueer, genderfluid or otherwise gender diverse—please contact our center to find out if we are able to provide the necessary care for your loved one to receive the help they need.
Inspire Recovery, a treatment center where LGBTQ+ individuals can recover in a safe and affirming place among their peers.
Are you or is someone you know addicted to drugs or alcohol?
Call Inspire Recovery today at 561-899-6088 for a free & confidential consultation.
Inspire Recovery Supports these LGBTQ, Human Rights, & AIDS Organizations