Are you or is someone you know a struggling with addiction?
Inspire Recovery can help! Call 561-899-6088 for a free & confidential consultation.
Creative Programming at LGBTQ Focused Treatment Center
INSPIRE RECOVERY: CREATIVE PROGRAMMING AT LGBTQ-FOCUSED-TREATMENT CENTER
Inspire Recovery "Creative Steps" Group Facilitator, Rolando Chang Barrero, in front of one of his mural paintings.
When dreaming up a creative program at the LGBTQ-focused treatment center, the owner and staff knew from day one that this was going to be a creative-based treatment center.
There are many unique characteristics that a lot of LGBTQ individuals share. Not to stereotype the LGBTQ community, but we have a funky, colorful, eclectic and whimsical flair that can often set LGBTQ youth and adults apart from the rest of society.
Historically, a good percentage of famous artists, writers, musicians, and performers are/were LGBTQ. That said, for us to create a welcoming environment for the LGBTQ community in recovery we knew we wanted to provide process groups that were clinically advanced in supporting core recovery topics but presented and developed in creative ways.
For instance, the majority of treatment centers include a 12 Step group in their weekly curriculum. In addition to a discussion-based 12 Step group, our clients also take part in a Creative Steps group every week.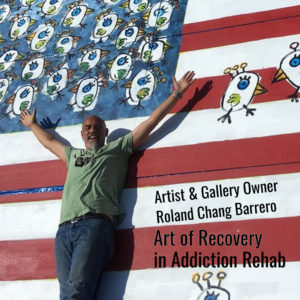 Our former Creative Steps instructor is a locally-famous visual artist, Rolando Chang Barrero. Rolando has an extensive background in studying Art Therapy, was leading "art of recovery" workshops out of his studio in the Boynton Beach Art District before he started to become invited to treatment centers to lead his workshops.Rolando proudly celebrates six years clean and sober and is an incredible inspiration to not only the recovery community and the artist community of The Palm Beaches, but he's also a bright light in the LGBTQ community.
We're honored to have had Rolando be a part of our creative programming at Inspire Recovery. An experienced muralist, Rolando's Creative Steps group was in the beginning stages of designing a mural for Inspire.
Are you or is someone you know addicted to drugs?
Call Inspire Recovery today at 561-899-6088 for a free & confidential consultation.