HANLEY CENTER LGBTQIA+ EVENT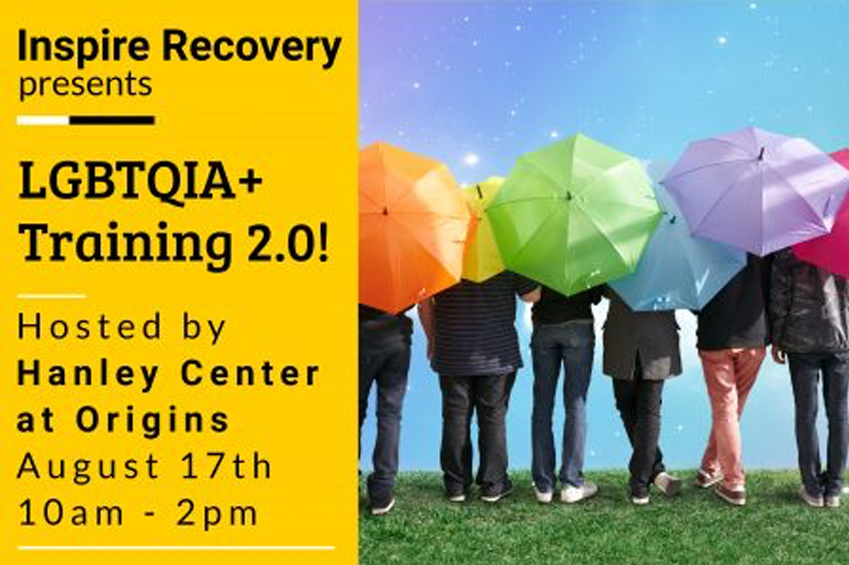 The Inspire Recovery team is excited to connect with addiction professionals, clinicians, behavioral health technicians, admission directors and coordinators, sober living managers and owners, outreach coordinators – and more – to bring you a training to increase knowledge and understanding of LGBTQIA+ individuals.
We are dedicated to supporting the development of therapeutic care within the behavioral health field that is culturally sensitive, aware and affirming for LGBTQIA+ individuals. If you do not work in the addiction recovery field and are interested in attending our event, please send us a message! This training is designed for those who provide health care and other services for LGBTQIA+ individuals.
If you have any trouble purchasing tickets, please contact our Community Outreach Coordinator
Leah Rothschild at: 561-248-7177
– Thank you for booking a ticket for our next LGBTQIA+ Training –
A COLLABORATION WITH
HANLEY CENTER AT ORIGINS!
The event is being held at the Hanley Center at Origins: 933 45th St, West Palm Beach, FL 33407. The training is designed to be engaging with experiential educational activities included. We look forward to seeing you on Friday, August 17th. Please mark your calendar! The doors open at 9:30 am. The event will begin at 10 am.
Lunch will be provided by our meal sponsor Gilead Sciences and
3 CEs will be provided by Hanley Center at Origins, our gracious hosts!